Oct 9
2015
Short-termism after Parliamentary Election in Portugal
Jitka Doležalová [1]
Nobody supposed that the results of an autumn parliamentary election in such a small country as Portugal can trigger an avalanche of further fragmentation of party systems in many other European countries. Mainstream parties received less than 30% of the votes in following parliamentary elections in Spain, Ireland, and Slovakia. They often lost their vote to far-right parties (the Slovak National Party and Kotleba - People´s Party – Our Slovakia in Slovakia), far-left parties (We Can and Popular Unity in Spain), and populist parties (Sinn Féin in Ireland). Mainstream parties usually declared before parliamentary elections their unwillingness to cooperate with these parties. However, they did not win enough seats in the lower chambers to form governments after the elections. Moreover, animosity between mainstream parties complicated negotiations about coalition governments. Mainstream parties rejected to form grand coalition governments like in Austria and Germany because feared a huge loss of their voters. The Portuguese government did not receive confidence in the lower chamber of parliament. Governments in Span and Ireland have not been established until these days. A new Slovak coalition government is seen by the majority of voters as a betrayal of their will. The Portuguese parliamentary election began the period of political instability in Europe.
Graph 1: Results of the parliamentary election in Portugal (%)
Source: Diário da República Electrónico (2015)
The Portuguese parliamentary election was held on 4th October 2015. Pedro Passos Coelho, the leader of the Socialist Democratic Party, hoped that he would become the first prime minister to be re-elected after steering his country through a bail-out. Portuguese government had to ask for a bail-out in the spring of 2011. The International Monetary Fund and the European Union provided a financial package in the amount of  €78 billion for Portugal. The main goal of the package was to restore competitiveness of the economy, support economic growth, and decrease the rate of unemployment which was at the highest level since the half of the 1980´s.

Graph 2: General government deficit of Portugal in period 2000-2015
Source: IMF (2016)
Portugal was struck by the global financial crisis in 2008. Thereafter, two Portuguese banks (Banco Português de Negócios and Banco Privado Portuguêso) found themselves in troubles and the government decided to give them financial assistance. However, Portuguese public finance had not already been in a very good condition for long time. There had been a general government deficit for the last 25 years. The government repeatedly exceeded the Maastricht criterion of annual general government deficit which was determined at the level of 3% of GDP for Euro-zone countries. General government gross debt reached 71.68% of GDP in 2008 and increased by 39.4 percentage points by 2011. Economic growth fluctuated only between 0.8 – 2.5% in the pre-crisis years. Combination of excessive general government expenditures and slow economic growth complicated the ability of the government to cope with the emerging financial crisis. The financial package from the international organisations was conditioned by measures which should resolve the structural shortcomings of the Portuguese economy and austerity measures in the total amount of 10% of GDP. 
Graph 3: General government gross debt of Portugal in period 2000-2015
Source: IMF (2016)
The government cut government expenditures including wages of public servants. Public sector wages declined on average by 20%. More than 42,000 employees left their positions in public administration between 2008 and 2012 because they were fired or decided to find better-paid jobs in private companies. Further, the Portuguese government raised taxes. For example, standard value added tax rate changed from 21% in 2010 to 23% in 2011. Total tax burden increased from the lowest level of 30.0% in 2009 to 34.4% in 2014. These austerity measures allowed the reducing of general government deficits from 11.17% of GDP in 2010 to 4.46% of GDP in 2014. Nevertheless, general government gross debt exceeded 100% of GDP and grew by other 30 percentage points till 2014. The Portuguese debt was the third highest in the European Union.  
Graph 4: Tax burden in Portugal in period 2000-2014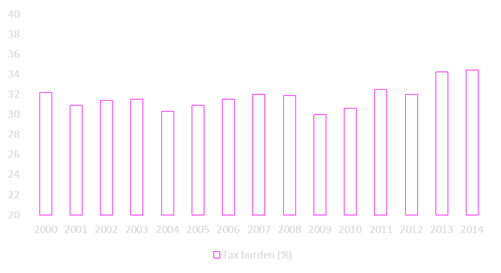 Source: OEDC (2015)
The Portuguese economy recovered mildly during 2014. Gross domestic product in constant prices grew by 0.89% in 2014 and 1.56% in 2015. However, gross domestic product has not surpassed its pre-crisis level yet. Economic growth was supported by more willingness of households to consume. Consumption expenditures raised by 1.61% in 20014 and by 2.18% in the following year. As statistics show, the only component of gross domestic product which has a potential to promote economic growth even during the economic crisis was export of goods and services. In 2015, Portuguese exporters were able to sell to abroad goods and services worth some € 15.8 million, a higher amount than in 2010. Export of goods and services increased on average by 6% between 2010 and 2015. Consequently, openness of the economy increased from 71.96% to 79.85% in period 2008-2015. Growth in production restored the demand for labour force. Unemployment rate declined slightly to 12.27% (compared with the highest level of 16.18% in 2013). Unfortunately, unemployment of young people aged 15-24 stays above 30% despite liberalisation measures on the labour market.
Graph 5: Growth in real GDP and unemployment rate in Portugal in period 2000-2015
 Source: IMF (2016)
The Social Democratic Party started to fall behind its biggest rival, the Socialist Party, in the opinion polls since the mid-2012 as a debt crisis struck the Portuguese economy. Prime Minister Pedro Passos Coelho, the leader of the Social Democratic Party, decided to form a coalition with the CDS-People´s Party before the election. Thereafter, the coalition called Portugal Ahead received similar electoral support in opinion polls like the Socialist Party. Coelho hoped that the recovery of the economy and the ability of the government to deal with austerity measures will help him to be re-elected. Conversely, his opponent, Antonio Costa, promised to voters to turn the page on austerity by withdrawing tax cuts, increasing government expenditures again to boost consumption, and stopping structural reforms. On the first October weekend, Coelho became a winner of the parliamentary election. However, his success had a bitter flavour because Portugal Ahead won only 36.9% of the votes. There was a small probability that Coelho would be able to form a coalition government with a majority of seats in the lower chamber. Its rival, the Socialist Party, won about 4.6 percentage points fewer votes. Far-left parties, Left Block and Democratic Coalition including the Portuguese Communist Party, received together ballots from 18.5% of voters. Antonio Costa rejected the option of backing the centre-right government in return for vague concessions and instead began negotiations with far-left parties. He destroyed the historical wall among the left parties and did something that had previously been seen as impossible. Nevertheless, Portuguese president, Aníbal Cavaso Silva, gave Coelho a chance to form a government. Coelho´s government did not receive confidence in the lower chamber of parliament and left the government office in a few days. The Socialist Party minority government supported by far-left parties was established on 26th November, 2015. The first announcements of the new government gave rise to concerns about further austerities measures. The European Commission chastised the government for submitting a budget that missed the 3% of GDP deficit limit. Angela Merkel, the chancellor of Germany, warned Portugal to be fiscally responsible. Portugal´s irresponsible behaviour could start a new war in Europe over austerity economics and threaten the stability of the European Union. 
[1] Faculty of Economics and Administration, Masaryk University (jitka.dolezalova@econ.muni.cz)
References
European Commission (2016). Eurostat. Database. Available at: http://ec.europa.eu/eurostat/data/database
International Monetary Fund (2015). World Economic Outlook Database October 2015. Available at: http://www.imf.org/external/pubs/ft/weo/2015/02/weodata/index.aspx
International Monetary Fund (2010). IMF Outlines Joint Support Plan with EU for Portugal. Available at: http://www.imf.org/external/pubs/ft/survey/so/2011/INT050611A.htm
Masaryk University (2015). Database of Political Parties. Available at: http://www.populism.cz/database
Organization for Economic Co-operation and Development (2015). OECD Revenue Statistics 2015. Revenue Statistics 2015 - Portugal. Available at: https://www.oecd.org/tax/revenue-statistics-portugal.pdf